Sunday Services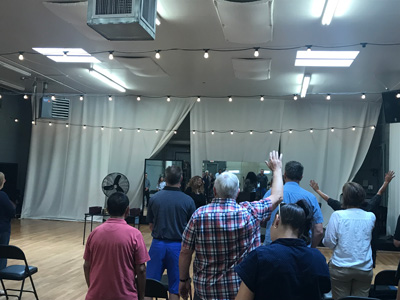 January 2021 Update 

We are moving!  
As of January 3, 2021 we will be meeting in our new location in the Malley Recreation Center located at 3380 S. Lincoln St. Englewood, CO. In preparation for these in-person meetings, please read and follow the instructions below. 
We are the body of Christ and, above all, we are to love one another. Out of an abundance of caution and respect for others, please observe the following while in church:
Maintain 6 ft. social distancing unless you are families in the same household

Masks are recommended but can be removed in the church as long as you maintain social distance

Remember that face masks are to protect others in case someone has the virus but no symptoms

If you are sick, or have been around someone exposed to COVID 19, please stay home for the safety of others
We look forward to seeing you again soon!
If you have any questions, please reach out directly to Pastor Michael at 720-298-2148.
Sunday School Now In Session for K through 6th grade
Divine Reflection CC is blessed to have an excellent team of Sunday School teachers to teach your children. Come visit this Sunday and your entire family will be blessed!
We thank the Lord for building His Church and for all of His promises. He is faithful!

"May the Lord bless you and protect you. May the Lord smile on you and be gracious to you. May the Lord show you his favor and give you his peace." Numbers 6:24-26