Who We Are
Divine Reflection Christian Church is a dynamic, multi-cultural body of believers. We believe that Christianity is not a religion, it is a relationship with God. We know that God loves each person and desires that each and every one know Him personally.  So great is His desire, that he sent Jesus Christ, His only Son, to save the world from the darkness of sin. 

"For God did not send His Son into the world to condemn the world, but that the world through Him might be saved." John 3:17
At Divine Reflection Christian Church we are called to:
To serve and worship Almighty God and instruct in the Christian faith
To be led in the love of God
To preach the good news and proclaim freedom to the captives
To serve the people of our community and minister to the broken through the love of Jesus and the outpouring of the Holy Spirit
Statement of Faith:
We believe the Bible to be the inspired and only infallible written Word of God. (2 Timothy 3:16)
We believe there is One GOD, eternally existent in three persons, GOD the Father, GOD the Son, GOD the Holy Spirit. (Matthew 3:16)
We believe in the Blessed Hope, which is the rapture of the Church of GOD, which is in Christ, at His return. (1 Thessalonians 4:16-18)
We believe that the only way to receive eternal life and forgiveness of sins is to repent and by faith receive Jesus Christ as Savior. (Ephesians 2:8,9 and 1 John 5:11)
We believe in the washing of regeneration and renewing of the Holy Spirit through Jesus Christ. (Titus 3:5)
We believe that the redemptive work of Christ on the cross provides healing for the human body in answer to believing prayer. (Exodus 15:26, Isaiah 53, Matthew 4;24, James 5:13-16)
We believe the Holy Spirit baptizes us into the Body of Christ (1 Corinthians 12:13); fills us (Acts 2:4); is our Comforter and Teacher (John 14:16, 26); guides us in all truth (John 16:13); gives us gifts (1 Corinthians 12:1-31); bears fruit in the believer (Galatians 5:22,23); which are some of the works He does.
We believe the God of the scriptures is the GOD of Abraham, Isaac and Jacob (Acts 3:13)
We believe Jesus is the Christ, the Son of the Living GOD (Matthew 16:16); the Anointed One (Luke 4:18 and Acts 10:38); the Holy One of GOD (Mark 1:24); and Savior of whosoever believes in Him (John 3:1`4-18); He has the Name which is above every other name (Philippians 2:9-11); nor is there salvation in any other, for there is no other name under heaven given among men by which we must be saved (Acts 4:12).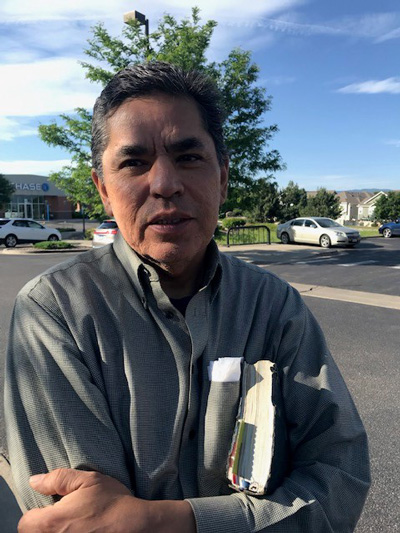 Pastor Michael Gonzales, Senior Pastor Divine Reflection Christian Church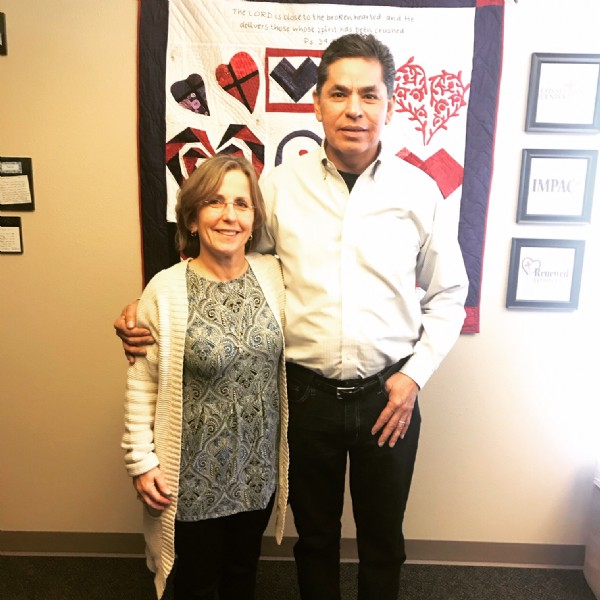 Divine Reflection Christian Church is a partner with Love INC of Littleton (Love in the Name of Christ) 
Love INC Executive Director Kathryn Roy is pictured here in the Love INC office with Pastor Michael Gonzales.